All but two contestants appear and speak at the Tiger Bay Club forum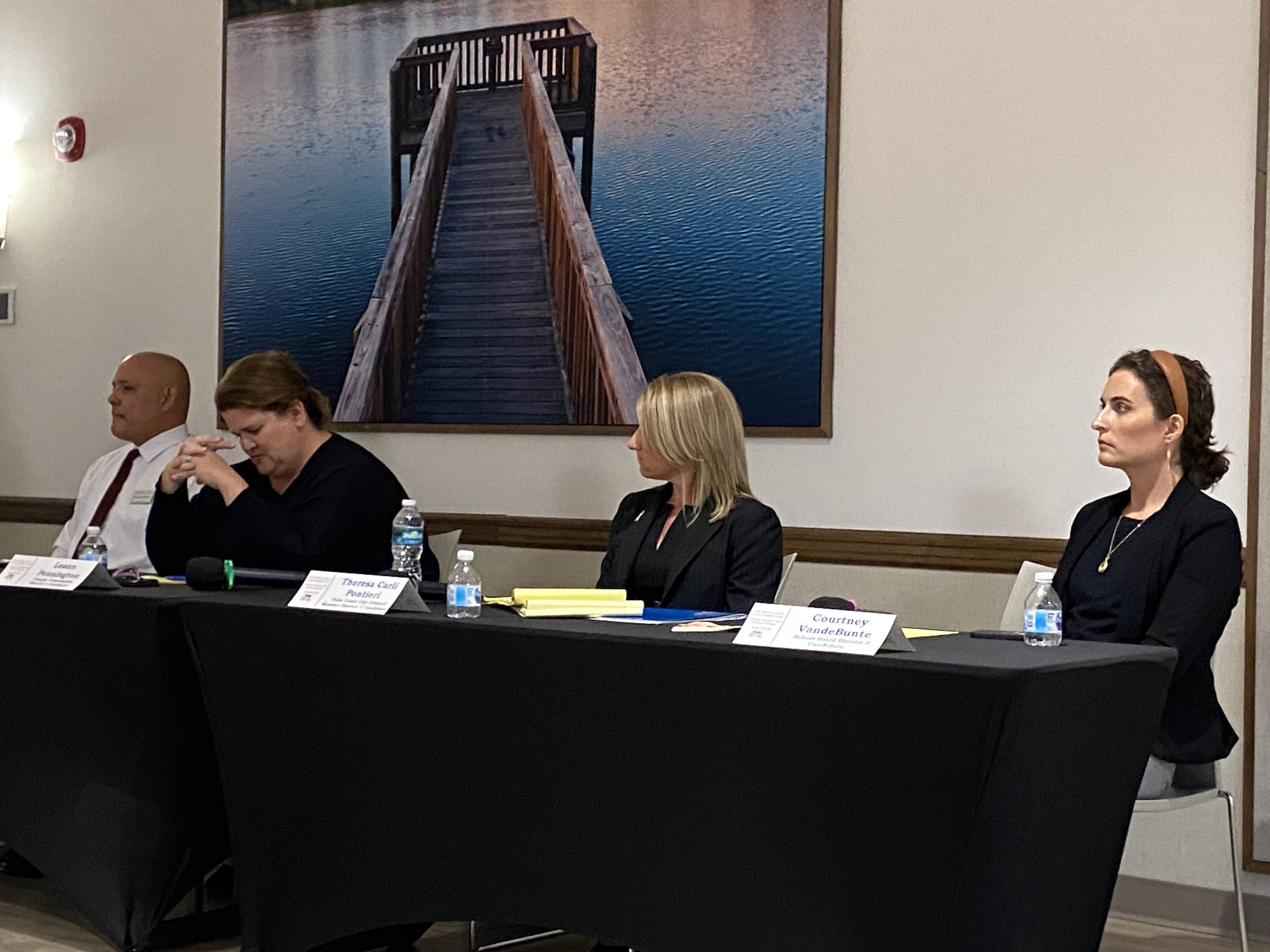 PALM COAST – Flagler County voters had a chance to vet six of the eight candidates on the November ballot Thursday night, courtesy of the Flagler Tiger Bay Club election forum. The event was organized by the club's nonpartisan board of directors and hosted by former Flagler Sheriff Jim Manfre.
County commission candidates Leann Pennington and Jane Gentile-Youd, city council candidates Alan Lowe, Fernando Melendez and Theresa Pontieri and school board candidate Courtney VandeBunte have agreed to participate. Two candidates chose not to participate; Cathy Heighter jumped because she was sick and Will Furry turned her down for unspecified reasons.
Alongside Manfre, five additional panelists submitted questions and follow-up questions: Realtor Sherri Dietrich, Flagler Auditorium Director Amelia Fulmer, AdventHealth Palm Coast Foundation Director John Subers, Pastor of the United Methodist Church Terry Wines and FSU political science graduate Darryl Boyer.
The first question prompted candidates to describe whether they had ever been arrested, ticketed, or suspended. VandeBunte and Melendez had nothing to report. Pontieri described a drunk driving arrest at the university and said she learned from it. Pennington said that at the turn of the millennia his license was briefly suspended due to late payment of a fine. Lowe said he was ticketed for violating the law on red years before. Gentile-Youd said she received a speeding ticket three years ago.
The next question was the first to be tailored to a specific candidate, this time to Lowe. He challenged the candidate for the third time to give his plan to restore citizens' trust in the city council following a series of public blunders. Lowe cited personal town halls and community sessions he had held and said he planned to continue with them if elected.
Melendez received the following question, asking how to attract new business to Palm Coast. He emphasized diversity, hoping to include tech companies in the region as opposed to the current service-oriented economy. Melendez here, as he did several other times overnight, cited his experience on the county planning and development board.
In keeping with the Palm Coast theme, the same question was posed to Pontieri. She advocated for development in western Flagler County and the creation of more industries to share the burden of Palm Coast's tax base. This, she said, could potentially make the kind of regressive property tax rates that many citizens have been calling for more feasible.
Pennington was then asked how she would bring technology companies to Flagler County. She agreed to bring resources west of US-1, but said the county could not afford to pick and choose which industries it hosts in the current local economic climate.
Next comes VandeBunte, who receives a question from Pastor Wines. Asked how to balance quality education with burning issues, reminded voters that critical race theory is not in Flagler County and pledged to uphold education standards set by the governor. It was a promise to Tory voters that she would not resist controversial education legislation in the council, but unless there was an endorsement of such measures on a personal level.
Gentile-Youd was then asked the same question as Pennington, an opportunity she took to argue against the west side of the county receiving accented treatment. To balance it all out, however, Gentile-Youd pushed to expand broadband access in the communities of Mondex and Daytona North.
Another overarching question was posed to applicants, asking if they had ever filed for bankruptcy or if a civil judgment had been entered against them. All candidates answered with no response except Lowe, who mentioned the red light ticket and a past lockdown.
All applicants were then asked about their strategy for promoting affordable housing in Flagler County. Melendez advocated for discussions including developers and real estate agents. Pontieri suggested basing multiple developments on demonstrated need. VandeBunte argued that highly rated schools appealed to professionals and business owners and highlighted the need for teachers in lower paid schools to have affordable housing. Gentile-Youd lobbied for condos with a low down payment. Pennington erred against the local government's incentive for development and said developers are not interested in making the types of homes that could assuage the need for affordable housing.
Pastor Wines then asked Pontieri for a solution to the city's homelessness problem. Pontieiri took it from a mental health and addiction perspective, hoping to reach the homeless community on that level.
Pennington was then asked to weigh in on the state and need for public transit in Flagler County. She stopped short of advocating for more public transit infrastructure, but cited the Sunshine Bus Company in St. Augustine as an example of the concept executed well.
Gentile-Youd was asked for a list of the top three priorities, and although she did not define three points, she took the opportunity to organize a more in-depth discussion on certain points of the consent agenda and expand public comment sessions of three minutes per person. five minutes away.
Turning to Lowe, moderator Manfre asked if he had met with any other Chosen Ones to prepare for the role. Lowe is close friends with Councilman Ed Danko, and while he didn't mention Danko by name, he said he's met most of the elected officials currently in office. Along the same lines, Pontieri spoke of conversations she had with Palm Coast City Manager Denise Bevan, during which she learned more about the city's budgeting process.
Melendez, speaking on the budget, stressed the importance of essential services like firefighters, and said he didn't think there was likely room in the budget to find the cuts for a mileage rate. reduced as many residents wanted. He went on to talk about his positive relationship with the real estate community when asked if governing bodies treat the industry too kindly. He said it gave him a good perspective on the housing crisis.
Pennington and Gentile-Youd were then asked if they support budget increases for the Flagler County Sheriff's Office. It's a measure with an overwhelmingly positive public outlook, and so Pennington approved a fully-funded FCSO and left it at that. Gentile-Youd had a little more to say on the subject.
With Sheriff Rick Staly sitting in the audience according to Gentile-Youd, the candidate said the sheriff's office budget needed cuts and it was his responsibility to find the money in his own programs to allow for increases salary, not the county. Fees. "I think it's a shame" she said, saying local fire departments were woefully underfunded and should receive the fruits of potential FCSO cuts. She also cited low crime rates as a reason to cut funding for law enforcement.
Moving on to the final round of questions, VandeBunte was then asked to weigh in on Superintendent Cathy Mittelstadt's performance. VandeBunte reserved full judgment until the end of this school year, but praised the strategic plan that Mittelstadt has implemented over the past year.
Lowe, asked about the debacle between the city council and the local Green Lion Café, lamented that a deal could not be reached between the city (and its public restaurant) and one of the area's most popular local restaurants. He linked it to a global need for more economic development.
VandeBunte was then asked a question submitted by AskFlagler: in essence, how can the school board deal with divisive issues without repeating incidents like the November 2021 meeting which has seen police intervention, violent and sexual threats against students, and little progress on the issue under consideration. His response has been to promote unity and transparency, to try to restore community confidence in the Council and its procedures.
Another AskFlagler submission came next, this time to County Commission and City Council candidates: what is the priority of protecting the county's green spaces from development? Candidates consistently valued it, and each described personal perspectives that supported their positions.
The final question of the evening went to VandeBunte, and it was something of a lay-up: does she support the ballot initiative to continue the county's half-cent sales tax to fund schools? public? The tax is about as popular as any tax could be, so VandeBunte has given it its enthusiastic support. By a show of hands, the other candidates also all gave their consent.