An artistic swimming club ready to resume virtual competition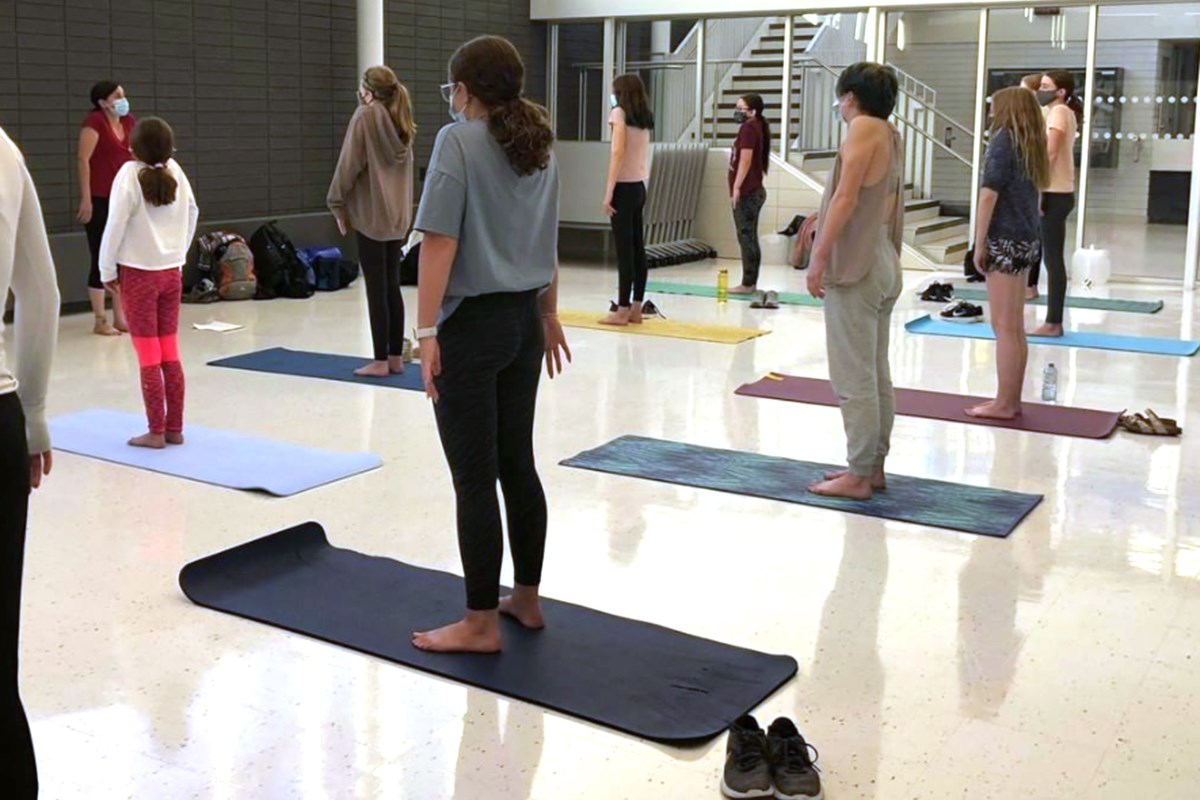 The Royal City Artistic Swimming Club canceled the annual Winter Water Show in December
The Royal City Artistic Swimming Club was ready for the new COVID guidelines announced this week.
The club have a few fixtures in their competition schedule, but were prepared to move them from face-to-face to virtual competitions as they were in 2021.
"We are entering the competitive season," said club president Kyla Poirier ahead of the announcement of new provincial guidelines that, at the very least, will keep the club afloat for most of January.
The club were supposed to have the teams compete in a face-to-face meeting on the third weekend in January, but it will be a virtual meetup if it takes place.
"The swimmers don't like it, but we filmed this week in preparation for that first meet in January because we're worried it will go virtual," Poirier said.
"All of our competitions were virtual last year," said RCASC head coach Brenna Thompson. "Depending on the time, if we were in full containment or if the swimmers were back in the pool training, they looked different. We had some that were more of an individual based dance routine and they focused on skills.
"And we had a couple of them that we were able to submit for judgment. Many clubs have submitted their videos and we have been ranked accordingly. We are preparing again for this type of environment. It's always nice to have this insurance policy in case we are not available to attend a competition in person.
"It's obviously not what we want or what the kids want," Poirier said. "We really hope they can compete in person this year, but everyone's safety is really paramount."
The club unplugged its annual Winter Water Show which was due to be held in mid-December just before a break for the holidays.
"In a normal year without COVID we would have a really big show on the last Saturday before the holidays and it serves as a showcase for swimmers, it serves as a fundraiser and we use it to thank our volunteers. All of those things, "Poirier said.
"Last year we did it completely virtual and this year we thought, okay, the numbers are good and we can do it in person as long as we take attendance in advance to control the number. . Only the numbers (of COVID infection) were increasing. It's sad and I'm disappointed for our swimmers.
"We have always filmed it and it will be sent to our swimmers. Again, just being too careful, we just felt it was important. "
RCASC will also host a Western Regional Meeting on April 30.
The club, which has around 45 members, have gone through the first and a half years of shutdowns and COVID directives that have kept them out of the pool for long durations and in the pool in small numbers in fairly good shape. He has received Jumpstart, City of Guelph and Ontario Artistic Swimming grants.
"We got pretty much every grant we could possibly ask for, which was a big help with the reduced number of swimmers," said Poirier. "We are a lucky organization in that we weathered this storm, but we still felt the effects. We have lost swimmers. We wasted time in the pool and all that.
One thing they've won over the past year is Thompson as a head coach. She joined the club's coaching team in 2021 and became its head coach in July.
"I coached at Halton Hills with their club for many years," said Thompson. "I've lost track of the number of years (with Halton Hills), but I've been coaching for over 15 years. "
Thompson was also an athlete of two sports as she competed in both swimming races and artistic swimming, formerly known as synchronized swimming.
"I think my mom just found it when I was very young," she said. "I have an older sister and she started the program (in Milton) four months before me. I wanted to swim so badly because I was a big fish and finally made the switch when I was old enough. At first they didn't want to take me because I was seven and at that time they only wanted nine and more, but my mom convinced them to allow me to join the club.
The club also changed its name around the time COVID first struck, moving from the Guelph Synchronized Swimming Club to RCASC under a national mandate, as the federal and provincial governing bodies also changed names.
"They align it more with the artistic aspect of skating because our programs are very similar to those on ice and gymnastics as well," said Thompson. "They all have the same basic judging principles and skating made the transition to artistic and gymnastics has always had that art so they moved on to figure swimming."
As the club's registrations for its competitive teams are closed, they are looking to add participants to its recreational courses and masters programs for its winter session. The fall semester ended in December.
"It's a great way to get into the water, to experience artistic swimming without committing to a provincial competitive team," said Poirier.
These could be changed if the current guidelines last too long.
"We didn't offer as many recreation classes during COVID because we had to downsize, but before December things were getting better so we were able to increase our numbers in the fall," Poirier said. . "We keep our masked swimmers when we are on the bridge or during practices in dry land, they can remain masked. Obviously, when you are in the water, you cannot wear a mask.
While the idea of ​​a master's program might conjure up images of older people in the pool, it doesn't. In artistic swimming, the masters are only 18 years old.
"It's for anyone who just wants to stay active for a lifetime," Thompson said. "For those who maybe want to stay active, like those who come from a club and don't want to be fully in the provincial atmosphere with all the competitions, they can swim there. Most masters, I would say, start after graduation.
However, lifeguards can experience the feeling of competition, if they so choose.
"In Ontario, they have the option, it's not mandatory, they have the option of going to two competitions," said Thompson. "According to their ranking, there is a Canadian masters competition, then there are also the world championships. "
For now, the club will remain flexible as it follows the guidelines in force.
"With COVID, we've seen recently that things can change very quickly, so we'll have to adjust as needed," Poirier said. "We are lucky that whenever the pools were physically opened via COVID, we have had swimmers in the pools. We learned very quickly that we had to adapt and unfortunately sometimes it is beyond our control. We just try to stay positive for our athletes and make the most of every situation. "