Auto Club Friends Help Man Make Grandson's Dream Come True | State and region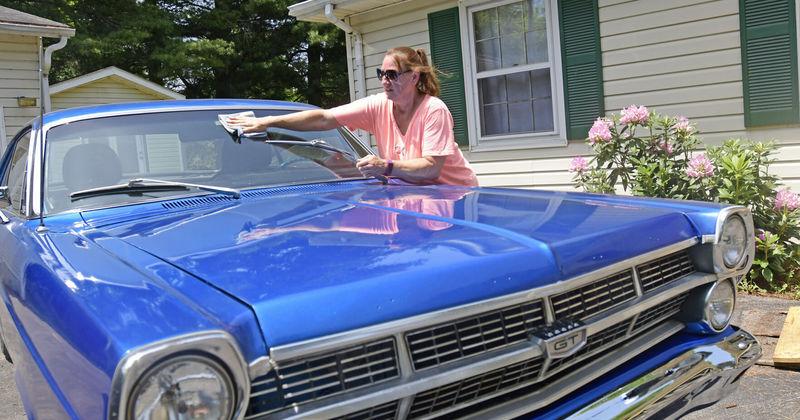 The late John Wayne White was a familiar face at area car shows and members of the Bluestone Classic Car Club, of which he was president for five years.
One of his dreams was to restore a classic car for his grandson, a 1967 Ford Fairlane like the one he bought after returning from military service in Vietnam.
But illness and premature death prevented him from realizing this dream.
Thanks to the friends of the automobile club, this dream came true about a month ago.
White was born in Princeton and raised in the Bluefield/Tazewell area.
A career Air Force veteran, he retired and eventually returned to Bluefield in 2001, where he was an active member of First United Methodist Church in Bluefield, Va, president of the Bluestone Classic Car Club, and a worked with Habitat of Humanity and Senior Companions.
"My dad was very passionate about his first car, so much so that he passed on the love of vintage cars to my eldest son, Jonathan," said Jenny Laughon of Roanoke. "When my eldest turned 15, his grandfather said, 'I'm going to fix a 1967 Fairlane and pass it to you for your high school diploma.
Laughon said his father always had good intentions.
"Anyone who knew my dad knew that and also knew how generous and kind he was to so many people," she said. "The car wasn't ready when my son graduated from high school, so my dad said, 'I'm going to get it ready for his college graduation. Well, that didn't happen either.
Laughon said his father found a 1967 Fairlane and completely disassembled the car with every intention of putting it back together, but his life was cut short in January 2021.
"I didn't know what to do with a completely dismantled car," she said, but had told her father she would find a way to finish the job.
A few months after her father died, she attended a Bluestone Antique car show and found that path.
"Bobby Charles, who is an active member of the car club, announced at the end of the car show that the club would see to it that my father's promise was kept and offered to rebuild the 1967 Ford Fairlane", Laughon said.
Charles and fellow auto club member Randall Kidd took on the task and spent months restoring the car. Joe Fox painted the car.
For Charles, it was doing something for an old friend.
"When I first moved to Bluefield in 1990, I moved into one of their rental properties," he said of White. "We both love old cars and ended up in the same car club."
Charles said White told Laughon his "biggest regret wasn't making this car for his grandson", and that it was a project he hoped to work on with his grandson.
But illness prevented that from happening.
Charles said White was a kind and generous person who had a "heart of gold" and stayed busy with Habitat for Humanity to help people.
"We did this for John," he said. "He would have done it for us. That's the kind of person he was. He always put others before himself."
Charles said the assembly process for the Fairlane was not easy as it had been completely disassembled and the engine had been sent to a machine shop. But this engine did not work and another engine was eventually found.
"We practically put everything on the car," he said, including bodywork, doors, windows, wiring, interior seats and carpeting. "We couldn't find a bench seat for that, so we had to fit bucket seats."
The engine is a 302 (cubic inches) with an automatic transmission, slightly larger than the stock 289, which was a popular size at Ford in this region, but they couldn't find a 289 for the Fairlane.
In fact, Charles owns a restored 1966 Mustang with a 289. He also owns the very popular 1957 Chevy and is currently restoring a 1976 Chevy pickup.
He said he will have one of these cars at the American Legion Post 9 Car & Bike Show on Raleigh Street in Bluefield on May 28.
"It's been a hobby for me for many years," he said of the restorations.
This expertise that he and Kidd had was necessary for the Fairlane.
Laughon said his father, who actually went by the name of actor John Wayne because his grandmother loved movies, was an aircraft mechanic in the Air Force, so he had the skills. to work on cars and had collected many cars over the years, including a 1966 Comet, which, she says, someone from Bluefield bought.
"At one time there were five different Fairlanes," she said of her father's former home off Rt. 460 just west of Bluefield, Va.
But it was the 1967 model he loved and that legacy will now be passed on to his grandson, who is an aerospace engineer and lives in Albuquerque, NM.
"He's coming to visit us in July," she said. "He hasn't even seen it yet."
This experience was bittersweet for her, she says, as she visits her father's house and sees the Fairlane, knowing what those cars meant to him.
"He was my rock," Laughon said of White. "He was a really good guy. My dad loved his hometown and did his part to make the community a better place.
White was someone everyone loved, she added.
"Bobby and Randall loved and respected my dad so much and knew that if either of them had been in the same position, my dad would have stepped in and done what they did," she said. "I can't thank them enough for bringing a ray of sunshine to my grief at losing my father. He would have been so happy to know that the car was finished and will be going to his grandson.