Bertoli named Laurens County Touchdown Club Player of the Week | Sports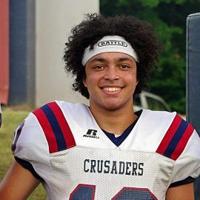 The Laurens County Touchdown Club has announced Clarence Bertoli as the Player of the Week for games played on October 21.
Bertoli is a senior running back for Laurens Academy. The Crusaders beat rival Newberry Academy by a score of 68-27 last Friday night at Newberry. Laurens Academy will host Richard Winn in its regular season finale this Friday night.
Bertoli scored seven touchdowns, including five touchdowns in the air and two touchdowns on the ground. He had nine catches for 226 yards and five touchdowns as well as five carries for 78 yards and two touchdowns.
Bertoli also added three solo tackles on defense.
Laurens Academy head coach Travis Plowden said: "Clarence was phenomenal in a rivalry game with a playoff birth on the line. He was by far the most dominant player on the night. He ran the ball hard all night and when our defense struggled he had an immediate response for every score they had.
The Laurens County Touchdown Club will honor Bertoli on Nov. 3 at the Touchdown Club's bi-monthly meeting. The meet will be at noon at The Ridge in Laurens. This year's Player of the Week awards are presented by Farm Bureau Insurance of Laurens County.
The November 3 meeting will feature Mike Ayers, former head football coach at Wofford College.
The Laurens County Touchdown Club meets every other Thursday throughout the football season at The Ridge, located in Laurens at 301 Exchange Road, and the public is invited. Tickets can be purchased at the door for $15. All meetings are at noon.