C-NS Football Booster Club Helps Program Succeed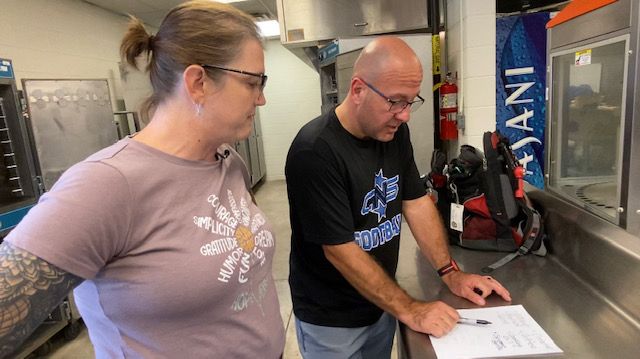 Concession stand snacks are a popular item at a high school football game.
"Chips, candies, sodas. All the things you typically see in a sports stadium for a football game," said Cicero-North Syracuse Football Booster Club president John Falgiatano.
But before the Bragman Stadium one opens for a C-NS home game, it takes a lot of work from the likes of Falgiatano.
He is the president of the C-NS Football Booster Club, a group currently made up of around seven volunteers. Boosters do whatever they can to raise funds for the program.
"Our main goal is to make sure the program has everything it needs to make sure it's a great experience for the athletes and we focus everything we do to improve that experience for them," said Falgiatano.
The booster club orders and prepares snacks, then takes on tasks like making sure things like the cash register are running efficiently. Volunteers spend several days before game night preparing to host at least a few thousand fans for a Friday night home game.
"So it all depends on how the team you're playing travels against and we try to base our order on that," Falgiatano said.
Kristen McDevitt has been a part of football boosters for over a decade.
"We provide funds for things that the district does not cover. So additional coaches, uniforms, equipment. All these things that will keep children safe and grow more on the pitch than off. The more coaches you have, the more interactions you have, the better for the kids," McDevitt said.
In addition to funding the uniforms, some members like Bill Golembieski spend hours each week in the stadium. He cleans the uniforms from the previous week and then organizes them by number as the next game approaches.
"Whatever the coaches choose they will let them know mid week and then they will start preparing the sizes and then Friday, tonight or tomorrow morning we will go over and start hanging them on the lockers and helmet color appropriate that they also choose," Falgiatano said.
No matter the task, these dedicated boosters will continue to give their all while the primary goal remains to help the C-NS football program succeed.
"It's such an impressive program. And, not just in his success on the football field, but in the transformation of the student athlete in general, which he is," said Falgiatano.
It's definitely a big boost on and off the pitch.
The C-NS Football Booster Club holds regular fundraisers throughout the year.
The group is always looking for additional volunteers, so if you'd like to help out with an upcoming game or find out more, just visit https://cnsathletics.com