Celebrating fifty years of dedication to the Crown Garden Club | Coronado Island News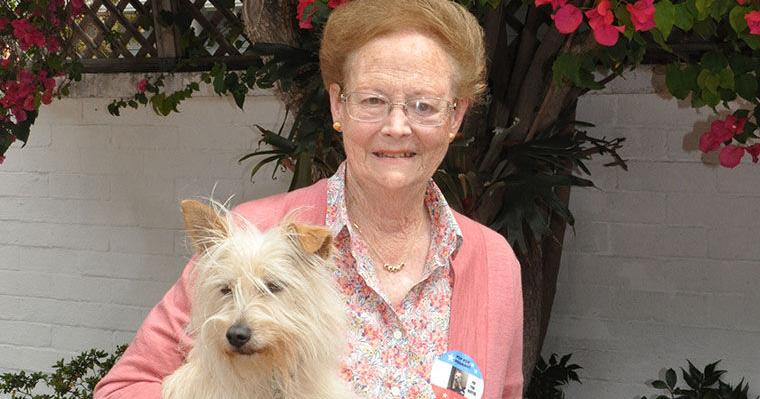 When you stay with something for 50 years, you're committed. You must have found enough pleasure and satisfaction in what you are doing to stick with it, because it is life long. Fifty years at the Crown Garden Club means that you also love plants, digging in the dirt and making the earth more beautiful for you and others. Four members of the Crown Garden Club have been active members for over 50 years: Judy Massey, Carol Cartwright, Susan Keith and Suzie Heap.
Massey and Cartwright cited the people as one of the main reasons for enjoying the club. At first, the members were mostly Navy wives who had lived all over the world, but current members include women from different walks of life and with little connection to the military. The original meeting place limited membership to 50. As the Crown Garden Club outgrew the American Red Cross building, the Bridge and Bay Garden Club came into existence.
Massey's Navy husband, Lance, had previously lived in Coronado, but she arrived in 1970 with their two-year-old son for her duty. She met her parents' friends who included the couple in celebratory gatherings and introduced them to other residents.
"Then there was a knock on my door, and it was Fran Marshall, and she said, 'You need to join the Garden Club. "After protesting that she didn't know much about gardening, the response was, "That's perfect. You'll learn everything you need to know,' so that was 1972."
It was the beginning, and she learned everything she needed to know while finding the fields and specialties that piqued her interest. When she had been invited to join her, she had considered it an honor, but she soon realized the ulterior motive: they needed people. She said: "And the next thing you knew, 'You should be on the board,' so I got on the board. I met everyone. It's a wonderful thing to do if you want to get involved in the club. I got to know all the original members of the club. It all started in 1959."
Massey spoke about workshops in garages that taught flower arranging and the club's interesting and informative programs. One week it could be about horticulture and the next about something artistic. Although she says she's not artistic and flower arranging wasn't her favorite thing, the more she learned, the more fun it was.
Her first venture into the flower show was flower arranging, but she said she got a lot of help from the members. Since then, she not only participates in the show every year but takes care of different sections, including miniatures. "If you've been to the Flower Show, you know miniatures go in circles. You must have reservations to enter. People are fascinated by miniatures and marvel at how it's done.
Massey said: "The first year I joined they put me on the board and they put me in charge of civic beautification. It's funny because I had no idea what I was doing… At that time, the main gate to the North Island, everything around it, was horribly ugly. It was really a mess. They hadn't done anything for years to spruce it up. Someone said we should get involved in this, so I made an appointment, I think. Pretty sure it was with the base CEO… Sure enough, within six months, the entire front of NAS North Island was beautiful. It had nothing to do with me. It had probably been in the works for five years. However, members felt that she had been the catalyst for change.
The family transferred but moved back to Coronado in the early 80s. When she joined the Crown Garden Club, they asked her to be president. Since she had lived outside the United States for six years and had no contact with garden clubs, she suggested that vice president would be the best choice, and it was. The position placed her in charge of programs, six to eight per year. Without the internet, the post and research took her to many corners of San Diego. "It was a way to meet lots of really interesting people. And I enjoyed it very much. »
When asked if she was interested in environmental issues, she replied, "I'm as interested as anyone who loves flowers. Yes. Involved in it? No, but I'm as interested as anyone. She mentioned including drought-tolerant plants that require little water in her garden, such as succulents. She has a variety of succulents both in the ground and in pots.
Since club members arrive from various parts of the country, they are often unaware of Coronado's growing conditions. She said they were trying to recreate their familiar gardens which needed a lot of water. It may have been doable before, but California water restrictions have limited plant selections. She notices the drastic changes in Coronado's horticulture since moving here. Garden clubs are useful for quickly educating a transplant to California-friendly vegetation.
With barely a minute's hesitation, Massey said her favorite flower was the "Valentine," a camellia that produces formal double blooms in shades of coral pink. Slow growing, it can become a tree with age. Flowers are abundant from winter to spring in milder climates. One Christmas, his only request was for this plant, but they had to travel to Los Angeles to find it.
Massey's enthusiasm for the Crown Garden Club is evident, so being a member for 50 years is hardly surprising. She has learned knowledge about plant life and shares that with anyone who asks. "One of the best things about the Garden Club is how free and easy everyone is to show you how to do something and not make you feel like you don't know anything, when you don't know anything, or just to make a slight suggestion I remember I put an arrangement at the Flower Show and afterwards I maybe got a third place ribbon… I was there, and a judge was near . The judge said, 'If you had only turned it 1/4'." After he was turned, she saw the difference. "That was the secret, so since then it's usually what I do. I look at it from different angles."
Club members are extremely helpful with their time and knowledge. Making lifelong friends, developing a passion for plants and their beauty, picking up a hobby that benefits others, and just having fun are more than enough reasons to stick with something for fifty years.
FLIGHT. 112, NO. June 25 – 22, 2022