Club Notes: Local organizations come together | Lifestyles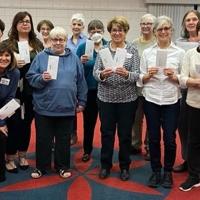 • LAWRENCE COUNTY ACTION met on April 6 for the regular meeting.
Last month, President Juliann Mangino issued a challenge to members to register at least one new voter in March and the success of this project was celebrated at the April meeting. Voter registration efforts will continue.
Members are also working on a postcard campaign to remind voters of the importance of their vote.
The goals of Lawrence County Action are to inform and educate the public and its members about current civic and political issues at the local, state and national levels. The group focuses on legislation that will affect the well-being of the global community.
Additionally, the group organizes voters to influence policy and aims to increase voter turnout throughout Lawrence County.
• THE NEW CASTLE CHRISTIAN WOMEN'S CONNECTION will have an "April Showers" luncheon from 12:30 p.m. to 2:30 p.m. Wednesday at Gallo's Italian Villa, 2420 Wilmington Road. The cost is $11.
"Finally a queen!" will be the subject of speaker Alma Keation. There will be music by Laura Cyrus and Andrea Peters of Lifestyle Gifts will be featured.
For reservations, which are due today, contact Marilyn at (724) 658-7626.