DLT takes the stage at the Lions Club | Community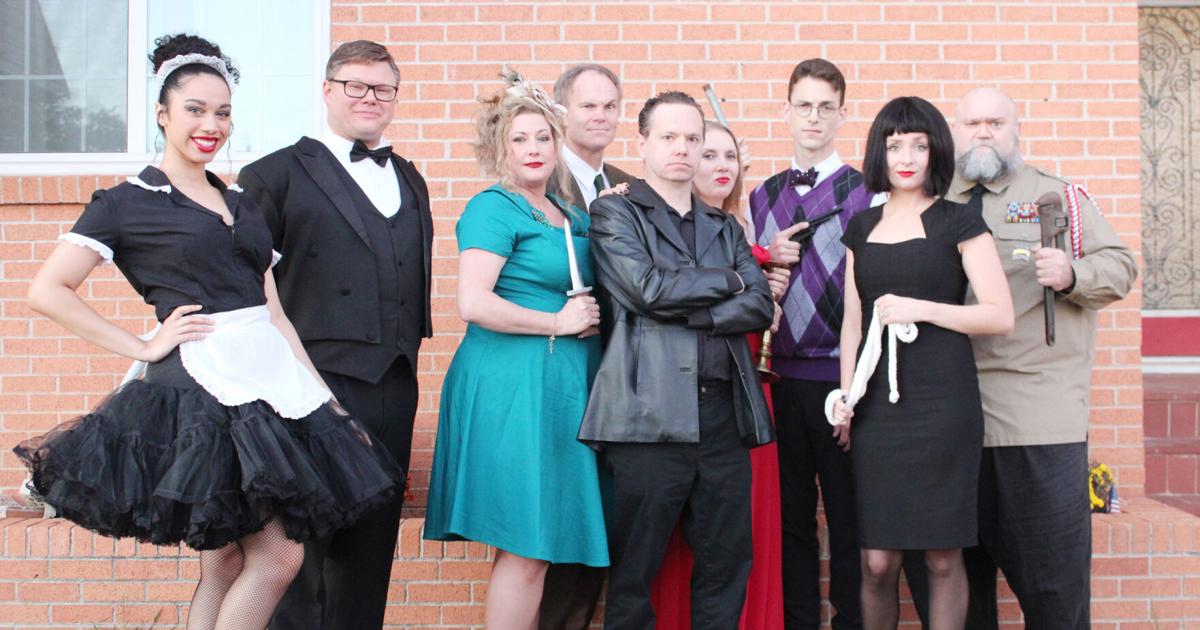 The Duncan Little Theater was in the spotlight at a recent Duncan Noon Lions Club meeting to talk about their upcoming performance of "Clue on Stage."
Clue on Stage will debut at 7:30 p.m. on November 4 and 5, with encore performances November 11 and 12 at the Simmons Center.
Co-producer and choreographer Lana Sleeper was joined by characters from "Clue on Stage," including Mrs. Peacock, played by Tana Latham Calhoun, Professor Plum, played by Reavis Hammond, Mrs. White, played by Brianna Shields and Mr. Green, played by by Dr. Preston Waters who each spoke about their favorite moments in the production.
Sleeper said they are working to have shows year-round, from musicals to plays.
"This play we're going to perform is a farce," she said. "A farce is a play that entertains with unlikely, but very interesting and high-energy situations."
First, Calhoun talked about her character as Mrs. Peacock and her character's pride and overreaction.
"I've been in many Duncan Little Productions since 1991," she said. "It has to be one of the strongest castings I've been in."
Calhoun shared one of her favorite scenes where she has to carry a body through a door.
Next, Hammond shared his experience playing Professor Plum.
According to Hammond, his character is an arrogant, obnoxious, and womanizing doctor.
Hammond said one of his favorite bits on the show is how he regularly tells everyone they should refer to his opinion because he's a doctor.
"This show is very fast, very fun," he said.
After Hammond, Shields talked about her character, Mrs. White, and what she brings to the scene.
Shields said her character tends to be very serious, in control, and in charge.
"(She) may or may not have murdered her five previous husbands," she said.
Shields said in the production and with the choreography, there is never a dull moment.
"We are constantly on the move," she said. "All of the music and sound cues on this show are really fun and engaging."
Waters said Mr. Green's character is anxious and clumsy.
Other characters who were unable to attend the reunion include: Ken Jones, who plays Colonel Mustard; Kassie Gilmore, who plays Miss Scarlett; Craig Lovett, who plays Wadsworth; and Jaden Gallop, who plays Yvette; as well as the cook, April Templer; Singing Telegram Girl, Rose Landrum; Mr. Boddy/Ensemble, Thomas Knight; Motorist/Ensemble, Jeff Beyer; Cop/Unexpected Set, Braiden Gregory; Chief Cop/Ensemble, Watson Burney; Reserve Cop/Ensemble, Karman VanOven; Ensemble/crew, Nicole Knight and Sally Wheeler.
The cost of admission is $15 for adults and $10 for students, seniors, and military.
The Simmons Center is located at 800 Chisholm Trail Parkway in Duncan. For more information, visit https://duncanlittletheatre.com/.