Grants help Orillia Rowing Club get back on track (3 photos)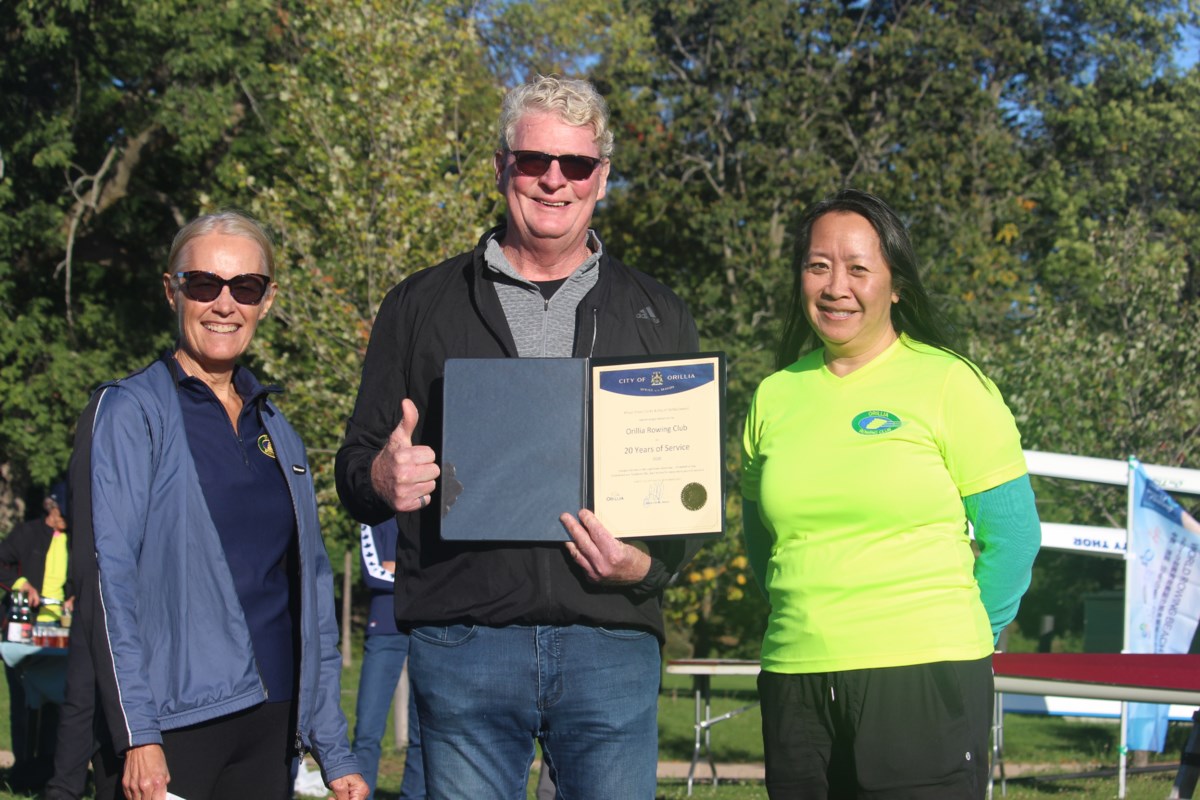 "This grant will help us attract more rowers, old and new," says club manager of $75,400 Ontario Trillium Foundation grant
PRESS RELEASE
ORILLIA ROWING CLUB
*************************
On Friday, Simcoe North MPP Jill Dunlop stopped to meet with members of the Orillia Rowing Club to hear how two recent grants, totaling $87,700, have positively impacted its programs, operations and local rowers.
The most recent grant, a $75,400 grant from the Ontario Trillium Foundation's Resilient Communities Fund, was awarded in the spring and is being used to upgrade equipment, develop new programs and help cover marketing costs.
"I am thrilled that the Orillia Rowing Club has found such a positive benefit through their grants from the Ontario Trillium Foundation," said Jill Dunlop, MPP for Simcoe North. "It's local non-profit groups like you who are truly the backbone of our city. I hope this funding will continue to help you rebuild the club stronger than ever and continue your important contributions to the community.
The Resilient Communities Fund was created by OTF to help non-profit groups rebuild and recover from the impacts of COVID-19. In addition to two new boats the club was able to purchase, the OTF grant was used to purchase other essential supplies that help get more rowers on the water and train for its new rowing program. competition.
This help is making a difference as the Orillia Rowing Club gets back on track after two seasons of restricted programming and membership due to COVID-19.
"The impact of this grant from the Ontario Trillium Foundation cannot be underestimated," said Glorilyn Cabugao, President of the Orillia Rowing Club. "This grant will help us attract more rowers, both returning and new.
At the event, Club members also spoke about the impact of the $12,300 Community Development Fund grant, awarded in the fall of 2021 by the Government of Ontario and the OTF. The grant enabled the Club to hire a trainer in 2022, cover operating expenses, and purchase PPE and sanitizing supplies.
The Orillia Rowing Club aims to share the joy of rowing with teens and adults in the local community in a safe and fun environment. It promotes recreational and competitive rowing as a healthy lifelong activity, fostering athletic excellence and camaraderie while continuing the century-old tradition of rowing in Orillia. To view the wide variety of programs offered, please visit our website at: www.orilliarowingclub.com.
The mission of the Ontario Trillium Foundation is to build healthy and vibrant communities across Ontario. As an agency of the Government of Ontario and one of Canada's leading grant-making foundations, last year OTF invested nearly $209 million in 2,042 community projects and partnerships, including funding for the Government of Ontario Community Development Fund. Since 2020, OTF has been supporting
*************************