'I feel very guilty:' U of G Ukrainian student club holds campus vigil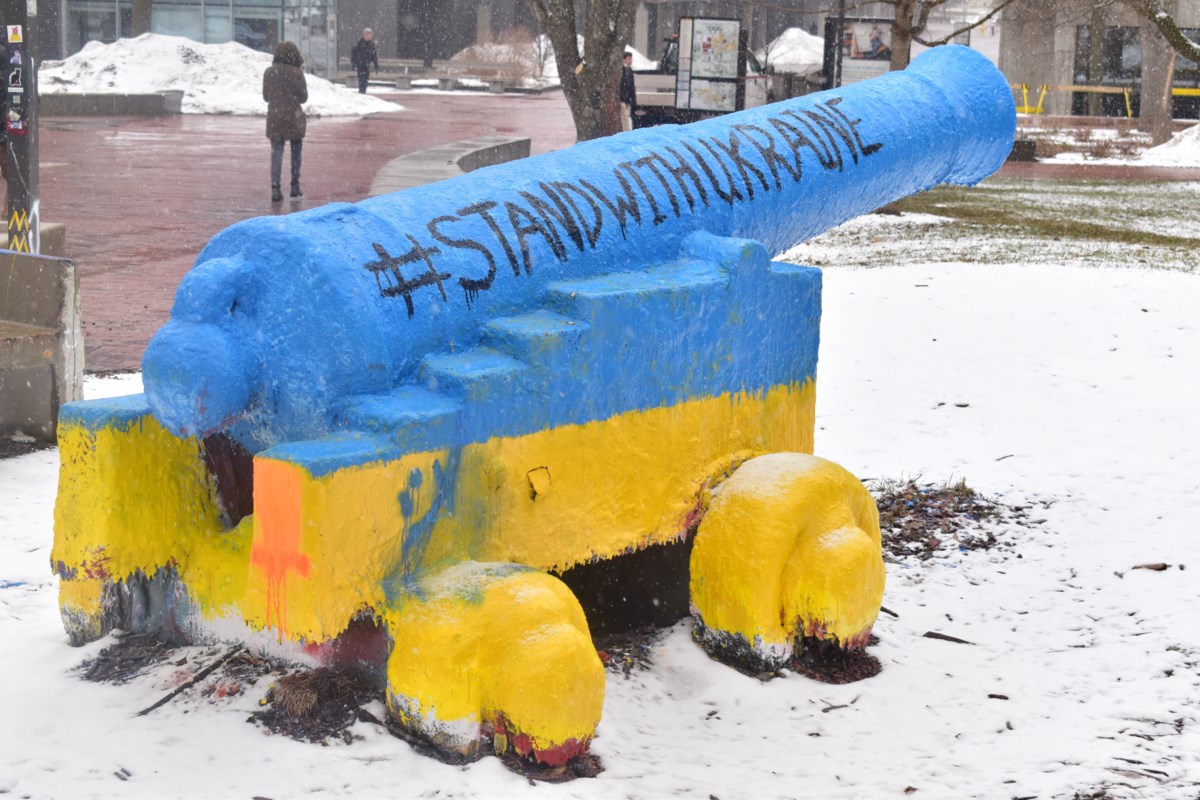 About 100 members of the University of Guelph community gathered on Tuesday to hold a vigil to show their support for the people of Ukraine.
Led by the U of G Ukrainian Student Club, the speakers recalled their Ukrainian heritage, family members who fled Ukraine and those who are still there.
Oresta Hewryk, co-chair of the U of G Ukrainian Student Club, gave the speeches, remembering her grandparents who fled post-World War II Ukraine to raise their families in North America.
"I consider myself extremely lucky to have also been raised the same way, to speak Ukrainian at home, to attend Saturday school and to be actively involved in the Ukrainian community," Hewryk said in her speech. "I also have something my parents didn't – I grew up with a homeland – I'm the first generation in my family who grew up knowing only a free and independent Ukraine."
"In these trying times, it's important that we come together, show our support for those who are hurting in our community," said U of G President Charlotte Yates.
In her speech at the vigil, Yates addressed universities to denounce the Russian attack on Ukraine.
"The university unequivocally condemns the violent invasion of Ukraine by the Russian government, which has killed innocent people, destroyed homes and communities, and left survivors fleeing for their safety," Yates said. "We are outraged by the continued death and destruction, and we stand in solidarity with Ukraine against this horrific and unjust attack."
The U of G has established support for members of the Ukrainian community and those not directly affected by the ongoing conflict by opening counseling services and student support hotlines.
Although he organized the vigil and acted as a pillar of support for others in the Ukrainian community, Hewryk said there was still guilt about not being able to do more.
"I feel very guilty, you want to do something," Hewryk said.
"I have friends who are from the United States and Canada who are in Germany right now helping escort refugees, and that's something a lot of us want to do, it's just that we don't all have the means to do it, so you do what you can but lie awake at night thinking there's something else I can do.