Martin Named Laurens County Touchdown Club Player of the Week | Sports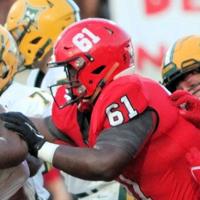 The Laurens County Touchdown Club has announced Jay Martin as the Player of the Week for games played on October 28.
Martin is a senior offensive lineman for Clinton High School. The Red Devils beat the Emerald Vikings 37-6 last Friday night on senior night at CHS. Clinton High will host Travelers Rest this Friday night at Wilder Stadium to begin the first round of the SCHSL AAA playoffs.
Martin has 53 blocks knocked down over the year and earned a mark of almost 90%. Martin leads the offensive line that has paved the way for CHS running backs to rush for over 3,000 yards this season.
Clinton High School head coach Corey Fountain said, "Jay has been a fixture at college since his freshman year. He's a tough-nosed kid who plays the kind of physical ball that Clinton High is known for. He also gives us quality representatives on the defensive line.
The Laurens County Touchdown Club will honor Martin on Nov. 3 at the Touchdown Club's bi-monthly meeting. The meet will be at noon at The Ridge in Laurens. This year's Player of the Week awards are presented by Farm Bureau Insurance of Laurens County.
The November 3 meeting will feature Mike Ayers, former head football coach at Wofford College.
The Laurens County Touchdown Club meets every other Thursday throughout the football season at The Ridge, located in Laurens at 301 Exchange Road, and the public is invited. Tickets can be purchased at the door for $15. All meetings are at noon.