McKeown Boys & Girls Club of Woburn ends 2021 on a high note | Woburn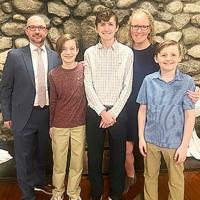 WOBURN — The James L. McKeown Boys & Girls Club returned to a traditional open meeting after a pandemic hiatus with its 58th annual meeting and dinner at Woburn Country Club.
The additional good news for the hugely popular and successful club is that it has finished in the black for its operating activity fund for the financial year 2021 over the past year.
The year, several officials noted, was like many others as attempts were made in various areas to return to normal at their main building on Charles Gardner Lane in Central Square, as well as their programs after the school in various elementary schools and their many in-house activities, from swimming and basketball activities to daily activities in their playroom, instruction rooms and others
The club now serves some 1,500 members from Woburn and surrounding areas such as Burlington and Winchester in many specialist programs. Membership is $25 per year.
The nominating committee nominated Daniel Martel as the new president and presented numerous honors to outgoing president William Johnson for his excellent efforts over the past two years.
The full list of officers also includes:
vice president
-Katie Gatcomb
Treasurer
-Marshall White
secretary
– Sue Ellen Holland.
A total of 27 members were elected for terms of 1, 2 or 3 years on the Board of Directors.
Also, in keeping with tradition, welcome and post-dinner remarks from the main podium were hosted by members Caleb Sawicki and Barbie Duran. PFC Joseph L. Drew 2021 Youngster of the Year Lauren Szwed also made some remarks during the official program.
Executive Director Julie Gage also noted at the start, "This is the 58th annual meeting and operating year and it shows what we can achieve by working together." "It's a lot of hard work and it's a great place for kids to go… whatever the reason. I am very, very grateful for the efforts: thank you.
In turn, Gage received roaring cheers, applause and a standing ovation from the nearly 100 people in attendance for his efforts. But, she warned, "we still need to raise funds to keep this going; Its very important."
Outgoing chairman William Johnson said he would like to speak on behalf of "a club that has achieved a lot". In addition, he praised General Manager Julie Gage "who is doing an excellent job". "Here, we, all of us, have had a real pleasure serving with you all." "Julie and the staff are very dedicated and we should all be proud of their efforts."
State Representative Richard Haggerty was also on hand to salute all those who have gone out of their way to make a difficult year enjoyable for directors, members and others, including some state programs to help non-profit organizations.
It has repeatedly been pointed out that a new $9 1/2 million building was constructed early in 2016 and completed mortgage-free a year ago: a real boon to the day-to-day running of the club's state-of-the-art facilities .
Treasurer Katie Gatcomb presented the report on operating activity for fiscal year 2021 which shows total operating revenue of $1,580,295 and total operating expenses for fiscal year 2021 of $1,483,255. . The club also ended $97,040 in the black for the year as some state and federal programs helped the cause.
Club leaders and managers all appreciated everyone's efforts in troubled times, but noted that the best came from their efforts.
"Again, lots of praise for two-year chairman Bill Johnson," concluded incoming chairman Dan Martel. "Thank you to Rep. Haggerty, the Board, the staff and all those with responsibilities," concluded Martel.