Past Pleasures Car Club salutes freedom at monthly car show |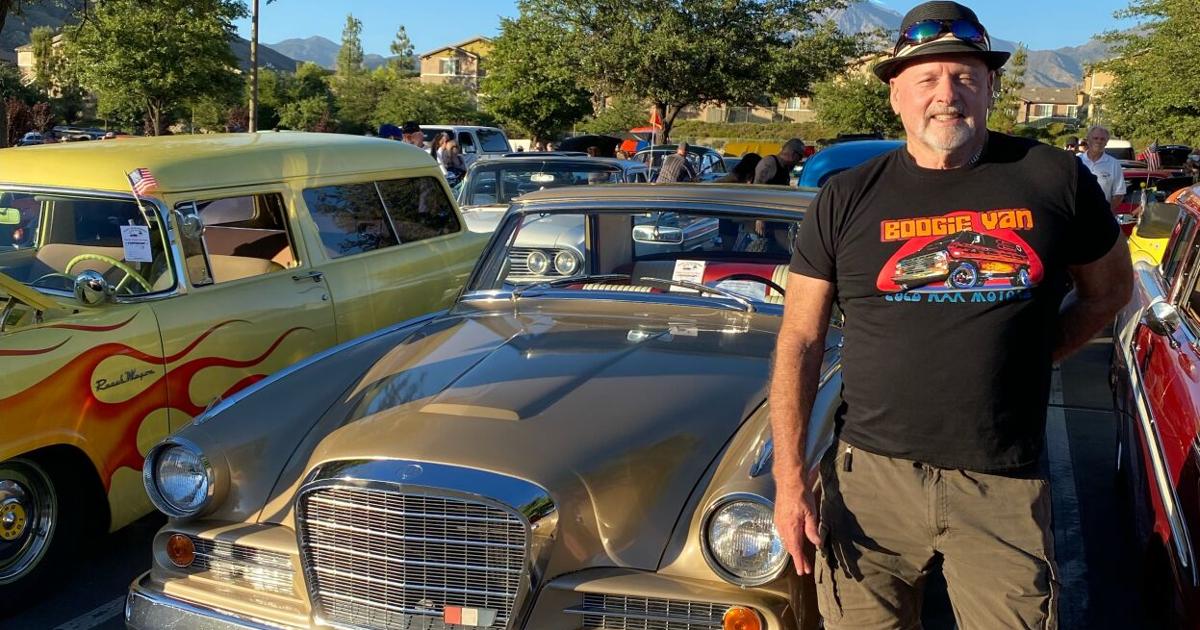 On July 1, the Yucaipa Past Pleasures Car Club held its Salute to Freedom car show.
It seemed like one of the biggest turnouts so far. There were 109 registered cars with over 200 being parked, displayed, shined with pride and seen and enjoyed by many.
This is the 42nd year for this club which started with ten cars. It grew enormously with 25 to 30 cars 25 years ago and now it often has more than 200 cars.
Next month is Children's Night and there will be lots of fun activities for children and youngsters.
There will be free popsicles, so the kids won't want to miss it. It was a great way to start the 4th of July weekend with the Salute to Freedom.
The club held the show at Yucaipa Center, 33600 Yucaipa Blvd. The shows take place on the first Friday of each month with a different theme. The shows are free and are a fun Friday night activity for the whole family. Some come to see the different cars and others come for a walk in the past.
In preparation for these events, Past Pleasures Car Club President Art Berry said: "At the beginning of the year we need to take out insurance to cover this property and then line up sponsors because there is no no registration fees. here, everything is free. Everything is free. From January to March, Berry is responsible for not only securing the insurance policy, but must also line up sponsors for trophies and printing for the shows.
There are currently 67 members in this club who also help out by volunteering for behind the scenes activities to help these events become a fun event for the club.
When asked if there were any newbies at this event, Berry said, "Every night of our shows we have first-timers. One in particular tonight is a gold Studebaker Hawk and it's his first time here.
Berry was referring to a 1963 Studebaker Gran Turismo Hawk owned by Steve Enneking of Yucaipa.
Enneking has been a car collector for 45 years. He said he found the Studebaker Hawk online. It was a brand new listing and didn't need any restoration. It has 16,000 original miles with original paint and upholstery and is a beauty.
"Every show, people will say 'It's my first time, I didn't even know this was happening.' Last month a guy left early and his name was called for a trophy I called him on the phone the next day and said hi, we called your name last night and no one answered. was 92 years old and was afraid to drive at night and wanted to go home because he was from San Bernardino and he came that day to pick up his trophy at my house and said he didn't even know about the show of automobile until he shows up," Berry said.
Classic cars are a certain category. Not all cars that people call classics are technically classic cars. Usually, the classic car moniker applies to vehicles over 20 years old. A classy classic at the show was a 1936 Straight 8 Packard Soft Top with two side carriers (for side-mounted spare tires).
The louvers (front) are thermostatically controlled which controls the motor temperature. The thermostat has an arm that will open and close the louvers. This car is a rumble seat coupe and has been recognized by the Department of Motor Vehicles as a historic vehicle.
To be recognized as such by the DMV, the vehicle is manufactured after 1922, is of historic interest, and is primarily used in historic displays, parades, or Historic Vehicle Club activities.
This car is owned by Gerald and Mary Green of Cherry Valley and they came with Antique Auto Corp. The young Luke Fabian was also present at the show. Her father, Adam Fabian, said they came every Friday. Luke was driving an automated car from the future (remote controlled by his father). Young Fabian was about to spend the night as he drove carefully with his eyes closed. Maria Garcia of Redlands said her 1947 Fleetline Chevy was a nine-year project.
When she first acquired it, its original paint was faded, but it was drivable.
Garcia said: "We wanted to own it, so it took a while, but we decided to tear it down and restore it."
Airbags were added to raise the car for driving and lower it when parked.
Mark Westwood was with Rick Ruhl's KQLH 92.5 FM broadcasting live during the show. The next car show will take place on Friday, August 5, starting at 6 p.m., at the Yucaipa Center.