Roberts named Laurens County Touchdown Club Player of the Week | Sports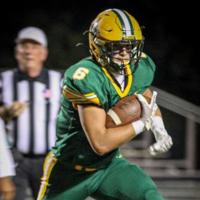 The Laurens County Touchdown Club has announced Jordan Roberts as the Player of the Week for games played on October 7.
Roberts is a lead linebacker, running back and special teams player for the Laurens Raiders. In a 17-14 loss to Riverside on Friday night, he had seven tackles and five assists, including one tackle for loss, two rushes and two breakups.
Offensively, Roberts made 6 carries for 18 and threw one pass for 8 yards. On special teams as a long snapper, Roberts had 4 good punt shots and 2 good PAT shots.
Laurens District High School Head Coach Daryl Smith said, "Jordan Roberts is a great football player and a great leader. He is a selfless player who will do anything to help his football team. He's a great tackler, he's been slamming for us for a long time and has shown good vision over the past few weeks making explosive plays.
The Laurens County Touchdown Club will honor Roberts on October 20 at the Touchdown Club's bi-monthly meeting. The meet will be at noon at The Ridge in Laurens. This year's Player of the Week awards are presented by Farm Bureau Insurance of Laurens County.
The Oct. 20 meeting will feature Bobby Lamb, head football coach at Anderson University.
The Laurens County Touchdown Club meets every other Thursday throughout the football season at The Ridge, located in Laurens at 301 Exchange Road, and the public is invited. Tickets can be purchased at the door for $15. All meetings are at noon.