The Rotary Club celebrates the success of Genesis Fuentes "Gift Of Life"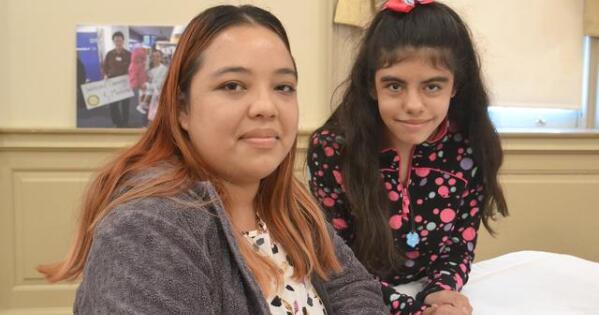 In 2014, 3-year-old Genesis Fuentes from Belize City, Belize had a congenital heart condition which, if left unoperated, gave her a life expectancy of just another 12 to 18 months.
But through the Rotary International Club's "Gift of Life" program, the Newtown chapter raised enough money to get Genesis the open-heart surgery it needed to survive.
On March 21, some eight years later, Genesis returned to Newtown – now a healthy and happy 11-year-old girl – for a celebration honoring her successful medical journey.
After meeting at The Newtown Bee offices to recreate a photo taken in 2014, Genesis met with members of local Rotary clubs, along with many residents, in the Alexandria Room of Edmond Town Hall, where they shared heartfelt sentiments and broke bread together.
Around the room were decorated large photos of children from around the world who have been helped by the Gift of Life program. There were also flowers arranged on each table bursting with color and vitality.
According to the Gift of Life International website, the nonprofit organization is transforming "the lives of children with heart disease and their families by coordinating the efforts of 84 stand-alone Gift of Life programs in 80 countries on five continents with charities, hospitals, like-minded partner healthcare facilities, healthcare professionals, Rotarians and other volunteers to develop sustainable pediatric cardiac surgery, catheterization and aftercare programs in emerging countries.
As the event began, Pat Caruso, a member of the Newtown Rotary Club – who played a vital role in Genesis receiving the gift of life – thanked the many people in the room who helped Genesis.
He kindly pointed out many people, including Newtown residents Monica Toll and her husband, Mike, another Newtown Rotarian, who served as a foster family for Genesis and her cousin, Melanie Lopez, in 2014 when they came to the United States.
Caruso concluded the list by saying, "Most importantly, we have our guest of honor, Genesis," and the crowd cheered.
To show his appreciation for Genesis and his cousin, he gave them each a bouquet of flowers.
Caruso recounted how the Rotary Club of Newtown first heard about the Gift of Life program in 2010 and knew he wanted to help the cause. Genesis became the first child in the program they were able to help.
"Genesis, we are very proud of you," Caruso said.
gift of life
Gift of Life International founder/director Robbie Donno was present at the Genesis celebration, who spoke about the work of his charity.
The organization has helped children from nearly a dozen countries, including Kosovo, the Philippines and the Dominican Republic, get surgery and the group plans to expand its efforts to even more countries.
He added, "We promised that at some point we would do a documentary."
To show what the Newtown Rotary Club has been up to so far, Donno presented a clip video to show them what will one day be part of the documentary.
The footage began with shots of young Genesis landing in the United States with her cousin and being greeted at the airport. He then recounted his medical journey and left the audience captivated.
Head Coach and Rotarian Dan Rosenthal had the opportunity to speak about his connection to the Gift of Life program as attendees dined at a catered meal.
He recalls how meeting Genesis and his cousin in 2014 was "really remarkable".
"When she arrived," Rosenthal said, "her lips were blue from lack of oxygen, but after the operation she had an amazing transformation."
"To see her leave as a healthy, happy young girl was really great," Rosenthal said. "Rotary became more involved afterwards. I really credit Pat [Caruso] for bringing him to the club and, not only that, but continuing to guide him.
The experience inspired Rosenthal to offer to be a foster family in 2015 to Hazel Ricardel-Alquilos, from Cebu, Philippines, and her son, Bezalel, who received the gift of life.
"It was truly wonderful for my family, selfishly. We bonded with Hazel and Bezalel. When he arrived he was 2 years old and weighed about 12 pounds…without the gift of life he wouldn't be alive today. today," Rosenthal said.
It has also had an impact on her children, especially her eldest daughter who is studying medicine at university and her younger daughter who is going to study nursing.
Regarding Genesis, Rosenthal said, "I think it's great that you're coming back eight years later and seeing full circle and being healthy and doing wonderfully…I can't wait." to see you back. We are all very lucky to have you here. Thank you."
Pay it forward
Caruso spoke again, saying, "As you can see, Rotary does so much around the world…the Gift of Life program really touches a lot of hearts. It's incredible."
He recalled how the first time he saw Genesis in 2014, she came to the United States and ran towards him with balloons.
"She literally almost passed out," Caruso said. The amount of effort it took for the young child to do such a simple action that so many people take for granted touched his heart.
He noted how lucky they were that the Toll family were such good hosts for Genesis and his cousin — even making sure Genesis gained a healthy weight before his surgery.
Between this care and the successful operation, the results have been impressive.
"When she got home…as the story was told to me, when she got off the plane she literally ran towards her brother. It was as if someone had turned on the switch and gave him the energy of the child. Everyone was very emotional," Caruso said.
The Rotary Club of Newtown also helped two children from Kosovo that same year and the family Rosenthal welcomed from the Philippines the following year.
During the celebration, the Rotary Club of Newtown ensured that even more children could have life-saving heart surgery by donating $5,000 to the Gift of Life program.
The following day, the president of the Rotary club of Newtown, Alex Villamil, spoke about this special evening by telling The Newtown Bee"For me, it was a pleasure to meet Genesis for the first time."
"One of the reasons I joined the club was the thought that Rotary had the potential to change people's lives," he said. "The Genesis is evidence of the mutual blessings that a recipient, as well as a giver, share, as well as the positive impact that the gift of life has on parents, family and friends.
"The initial act of saving his life seven years ago and the celebration of his return to Newtown demonstrates the kindness of spirit and caring of which we are all capable. The gift of life is a way to channel the best in us, which is why Newtown Rotary continues to contribute year after year," added Villamil.
To learn more about the Gift of Life program, visit giftoflifeinternational.org. To become a member of the Newtown Rotary Club and make a positive difference in the lives of people like Genesis, visit newtownctrotary.org.
Journalist Alissa Silber can be reached at alissa@thebee.com.
Genesis Fuentes, 11, smiles with her cousin Melanie Lopez during the Gift of Life celebration at Edmond Town Hall on March 21. —Bee Photo, Silber
This photo appeared in the February 21, 2014 print edition of The Newtown Bee; left to right, Newtown Rotary Club member Pat Caruso, Melanie Lopez, Genesis Fuente, Monica and Mike Toll. —Bee stock photo
Recreating the original 2014 photo during a follow-up visit to the area this month, pictured from left are Newtown Rotary Club member Pat Caruso, Melanie Lopez, Genesis Fuente, and Monica and Mike Toll . Through the Rotary International Club's "Gift of Life" program, the Newtown Rotary Chapter raised funds to get the life-saving open-heart surgery Genesis needed when she was 3 years old. —Bee Photo, Taylor
Newtown Rotary Club President Alex Villamil and Genesis Fuentes, a Gift of Life recipient seven years ago, hold a check for the Gift of Life program. On March 21, Villamil and Fuentes were joined by first coach Dan Rosenthal, Newtown Rotary Club member Pat Caruso, district governor Jeffrey Krause and Gift of Life founder Robbie Donno. The Rotary Club of Newtown donated $5,000 to Gift of Life to help save more children around the world. —Picture of bee, silver
First selector Dan Rosenthal and Newtown Rotary Club member Pat Caruso shared their experiences with the Gift of Life program and how Genesis Fuentes' journey has inspired them to continue helping those in need. —Picture of bee, silver
Gift of Life International Founder/Director Robbie Donno, standing, talks about the work done by his charity during the celebration of Genesis Fuentes, a Gift of Life recipient. —Picture of bee, silver
Video clips of Genesis Fuentes coming to the United States to receive his life-saving operation through Gift of Life in 2014 were played at the rally at Edmond Town Hall on March 21. —Bee Photo, Silber