You love to sail… but? Gibsons Yacht Club has boats for that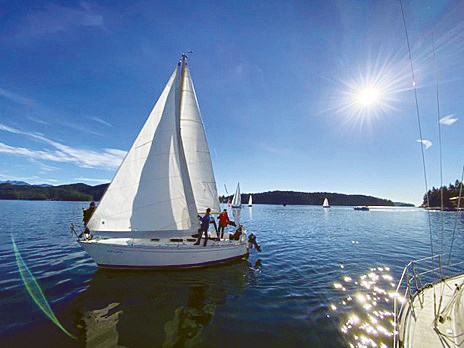 The Gibsons Yacht Club says, "No boat? No problem." The club has increased its Club Boat fleet to three sailboats and is looking for new members who want to sail but don't have the money, time or commitment to own their own boats.
The Club Boat program has grown steadily since its inception in 2016, filling a community need for a less expensive way to spend time on the water. For less than $800, GYC Club Boat members have access to one of three sailboats – each easily accommodating up to four people – for a full year, and pay no maintenance, insurance or mooring. In addition, members enjoy the benefits of experienced yacht club members and social activities throughout the year.
"Experienced boaters are always ready to help," said Vice Commodore Jim Forward, who has been boating since he was 10 years old. "Each member enjoys use of the boats seven consecutive days a year, and daily or nightly use depending on availability. There is no limit on when you can go out unless the boats have already been reserved.
Members can take a day cruise around Keats or cross Bowen Island for lunch. Some venture further afield to explore the Gulf Islands or as far as Desolation Sound. GYC members can also participate in winter races in the harbor and benefit from special rates to improve their skills in boating safety and navigation with Power Squadron courses. Whatever the occasion, the opportunity to spend time on the water and in fellowship with like-minded souls at club activities is invaluable.
It's not just a summer thing. Boats are available year-round, and GYC's active social calendar also brings members together out of the water.
"Club Boat members bring healthy growth to the yacht club," said Commodore Kate McQuaid. "In fact, several former Club Boat members are now GYC Boating members with their own boats, thanks to the trust gained and positive experiences with our fleet of sailboats."
A Club Boat Information Day will be held on Saturday May 7 at the Gibsons Marina. Visitors can tour the boats, talk to Club members or visit the Nautical Exchange Meeting on the marina docks from 11 a.m. to 4 p.m.